We often talk about quality in our daily lives - quality of products, or quality of services. Let us take a quick yet deeper look at the meaning. Some of the popular dictionary meanings of quality are:
A distinguishing characteristic
Degree of excellence
We can look for many more meanings and definitions on web by searching on google for keyword "define: quality".
The important keywords are "distinguishing" and "excellence" and their interpretation are contextual and vary from situation to situation. However, there are 3 common characteristics of quality: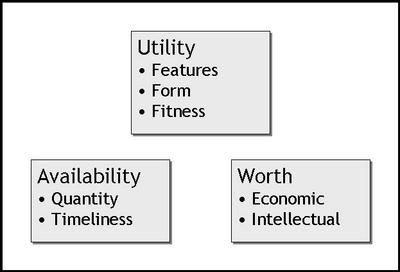 We, as customers, do not look for quality in isolation. It is always a combination of quality and cost. In other words the "value" of product or service. Value may be defined as ratio of quality to cost, where quality is proportional to the product of its 3 essential characteristics (defined above).
Therefore, businesses have to constantly strive to provide higher "measurable" value to their customers.
comments powered by

Disqus
Commenting Guidelines
We hope the conversations that take place on "discover6sigma.org" will be constructive in context of the topic. To ensure the quality of the discussion stays in check, our moderators will review all the comments and may edit them for clarity and relevance. The comments that are posted using fowl language, promotional phrases and are not relevant in the said context, may be deleted as per moderators discretion. By posting a comment here, you agree to give "discover6sigma.org" the rights to use the contents of your comments anywhere.