Simply because Six Sigma
Delivers business excellence;
Improves profits;
Delights customers;
Increases entry barrier for competition.
The benefits from Six Sigma are indeed significant. Here are some leading business examples that highlight the benefits.
GE
With adaptation of Six Sigma in 1996, the year 1997 became a year of change. In GE's annual report, the letter to the shareholders & employee started with a note, "In 1997, your Company had a great year - a record year". Six Sigma contributed almost US$300 million to the GE profits: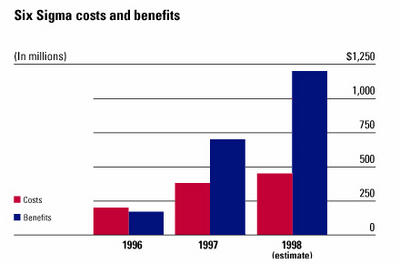 Six Sigma fuelled an unthinkable growth at GE as evident from the subsequent year's annual report - "We have invested more than a billion dollars in the effort, and the financial returns have now entered the exponential phase - more than three quarters of a billion dollars in savings beyond our investment in 1998, with a billion and a half in sight for 1999".
DuPont
Annual report of year 2004 of DuPont states, "Six Sigma continues to play a major role in achieving all of our business objectives, both productivity and growth. We are now finishing our sixth year of Six Sigma at DuPont. At the outset, we focused on cost improvement, mainly at our manufacturing sites. We now have Black Belts leading projects in every function and region, and over 25 percent of our projects are aimed at growing revenue. Six Sigma has become the way we work at DuPont and is a key approach to improving execution as we enter 2005".
3M
The section on Management's Discussion and Analysis of Financial Condition and Results of Operations in 3M's 2004 annual reports highlights, "Operating income in 2004 increased by 23.3% versus 2003, as all seven business segments posted increases. The combination of solid sales growth and positive benefits from 3M's 2004 corporate initiatives drove the operating income increase. Cost reduction projects related to these initiatives - Six Sigma, Global Sourcing Effectiveness, 3M Acceleration and eProductivity - contributed over $400 million in aggregate operating income benefits in 2004".
Their Display & Graphics Business states, "Operating income rose 27.8 percent and operating profit margins increased to 33.2 percent, powered by a combination of double digit sales growth and benefits from Six Sigma and 3M's other corporate initiatives".
comments powered by

Disqus
Commenting Guidelines
We hope the conversations that take place on "discover6sigma.org" will be constructive in context of the topic. To ensure the quality of the discussion stays in check, our moderators will review all the comments and may edit them for clarity and relevance. The comments that are posted using fowl language, promotional phrases and are not relevant in the said context, may be deleted as per moderators discretion. By posting a comment here, you agree to give "discover6sigma.org" the rights to use the contents of your comments anywhere.